Ice rental
Whether it is for a social activity with friends, family or coworkers, curling is the perfect choice. For a period of usually 2 hours, participants will be guided by instructors in order to learn the basics of the sport, all while having fun playing.
High school
You are a high school teacher and you are looking for a new educational activity with your groups? Curling is ideal and your students will love this new activity. In a curling club close to your school, instructors will be present throughout the activity to ensure safety and to demonstrate the basics of the sport. Students will then have the chance to play and discover all the required skills such as the technical, tactical and physical sport sides. Teachers will even be able to try curling and show their talent to their students!
Elementary school
Elementary schools students love to discover curling, either if it is in the gym or on the ice. There is a school program with Rocks & Rings where you will receive the visit of an instructor who will lead your physical activity classes. Unique indoor floor equipment, designed for gyms, will educate students in a fun way by the various drills and team building activities.

For more details on the Rocks & Rings program, we invite you to visit the following website: www.rocksandrings.com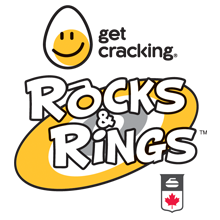 Some curling clubs also offer the Blizzard Program-Initiation to curling for 6 to 12 years old. See in the "Training section" or contact us for more details.